Creating open kitchens: 5 multifunctional kitchen island designs
21 Jul 2023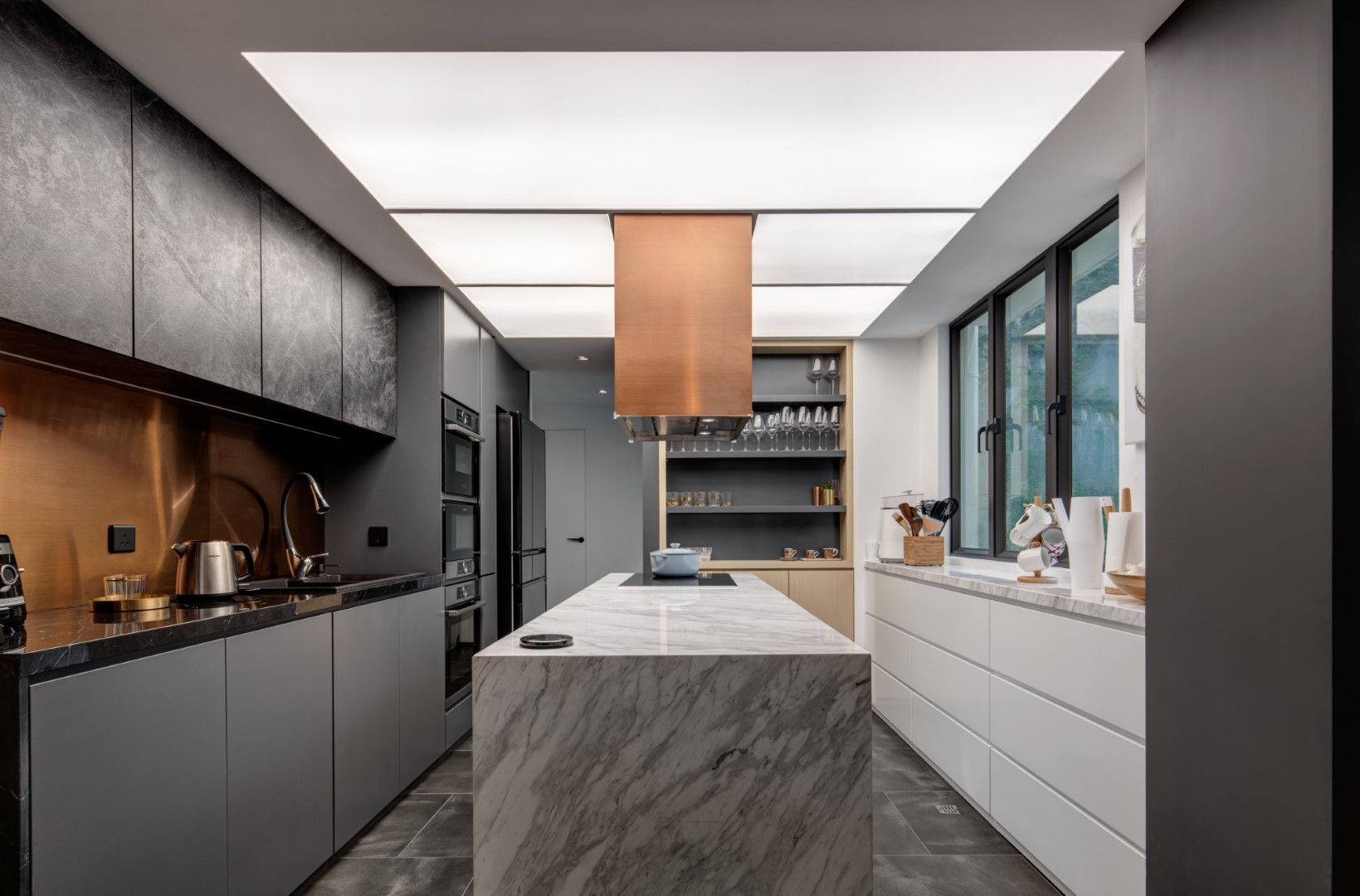 Interior Designer︰in Him's Interior Design
As more and more homes lean towards open-plan kitchen designs, having a kitchen island has become an essential choice. You might think that kitchen islands are only found in grand luxury homes or European and American-style residences. However, kitchen islands serve multiple functions and can be incorporated into even a simple and cozy abode. They not only enhance the sense of space but also provide functional design elements. Let's take a look at Designpedia's showcase of 5 kitchen island designs for home kitchens. It might change your perspective on the versatility of kitchen island designs!
Home Design 1︰Seacrest Villas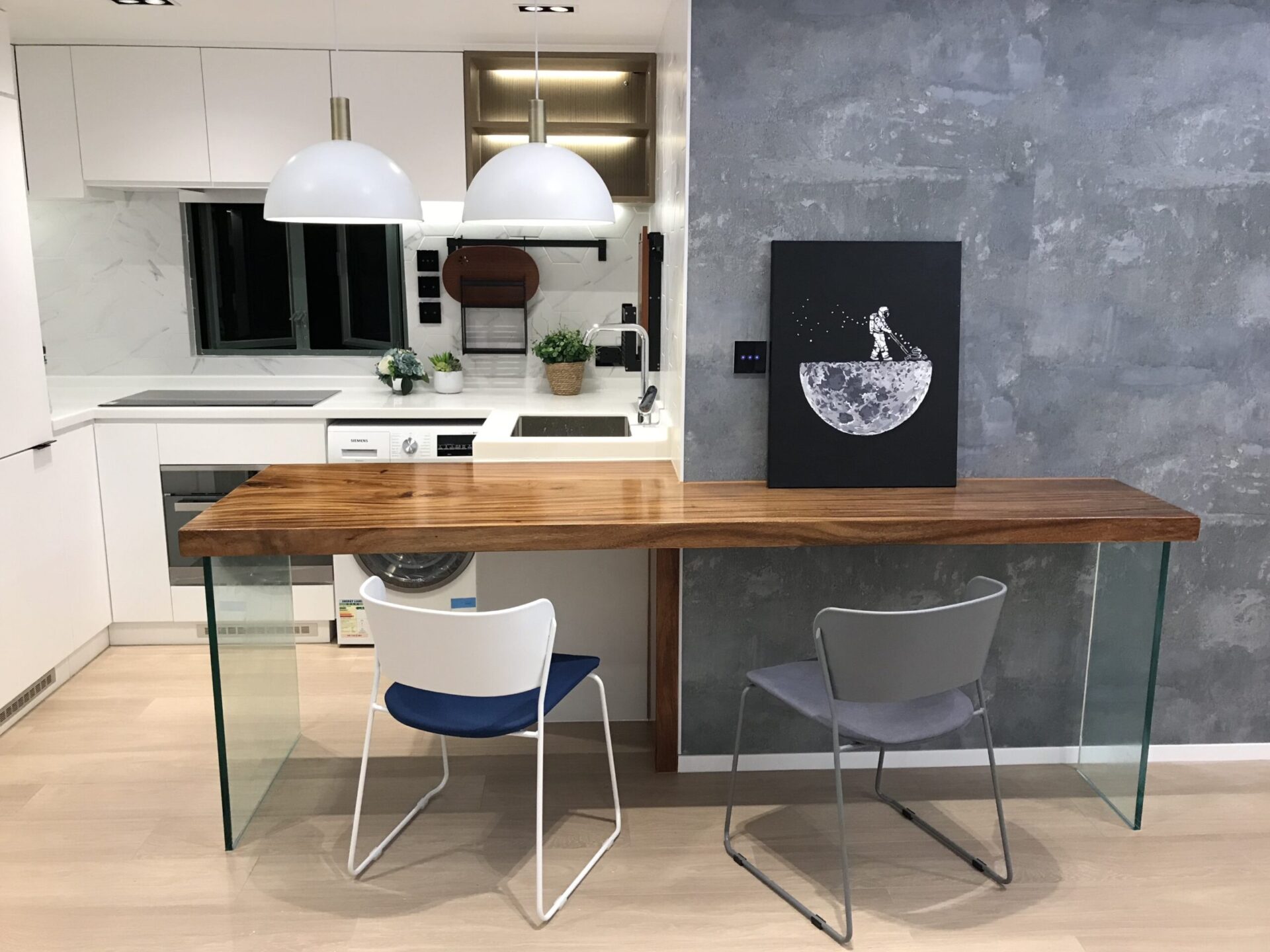 Interior Designer︰Dream Interior Design Decoration
In your cozy abode, the kitchen island can serve a dual purpose. It can be your cooking station as well as a dining area. The compact kitchen island can also be used as a breakfast bar, designed to be narrow and elongated to save space. It is created with a combination of white and wood elements, exuding a clean and bright Nordic simplicity. The kitchen is strategically positioned to bring in abundant natural light, allowing you and your partner to enjoy a light breakfast together, stimulating your appetite in the early morning.
Home Design 2︰Wonderland Villas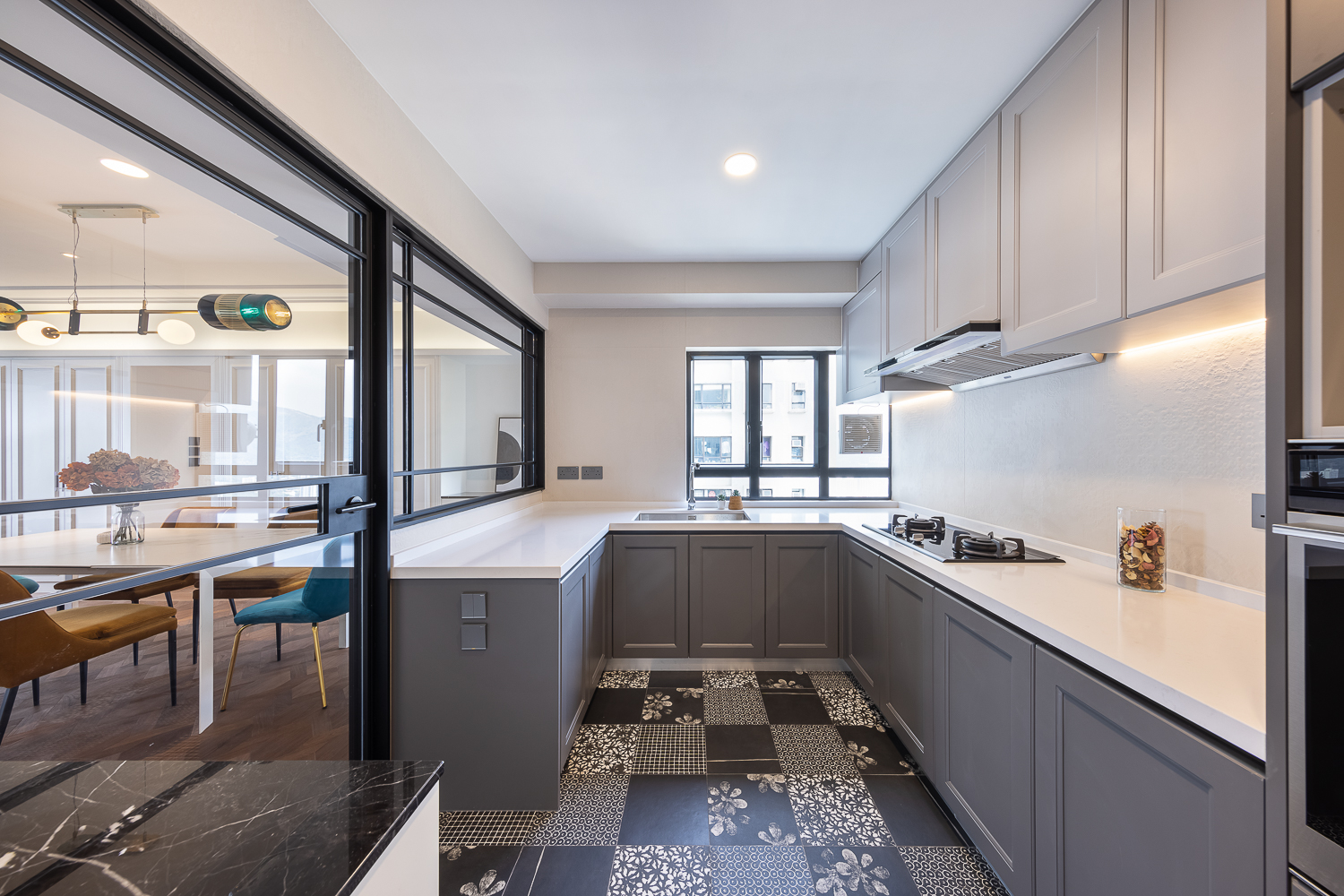 Interior Designer︰am PLUS Designs Limited
Who says kitchen islands are only limited to open-plan kitchens? The kitchen island can be positioned in the center of the kitchen, serving as an extension of the cooking area and providing additional storage space. It becomes a convenient spot to store items needed for cooking. Moreover, placing the kitchen island in the middle allows for even distribution of corridor width, ensuring smooth movement without affecting the workflow. It makes cooking more efficient and enjoyable.
The kitchen island can also serve as a gathering place for friends and family, where you can chat and spend quality time together. By closing off the kitchen area, it can even create a private space for your own relaxation. The versatility of a kitchen island goes beyond its practical use and adds a touch of functionality and socialization to your kitchen, regardless of the layout or size.
Home Design 3︰Mayfair Gardens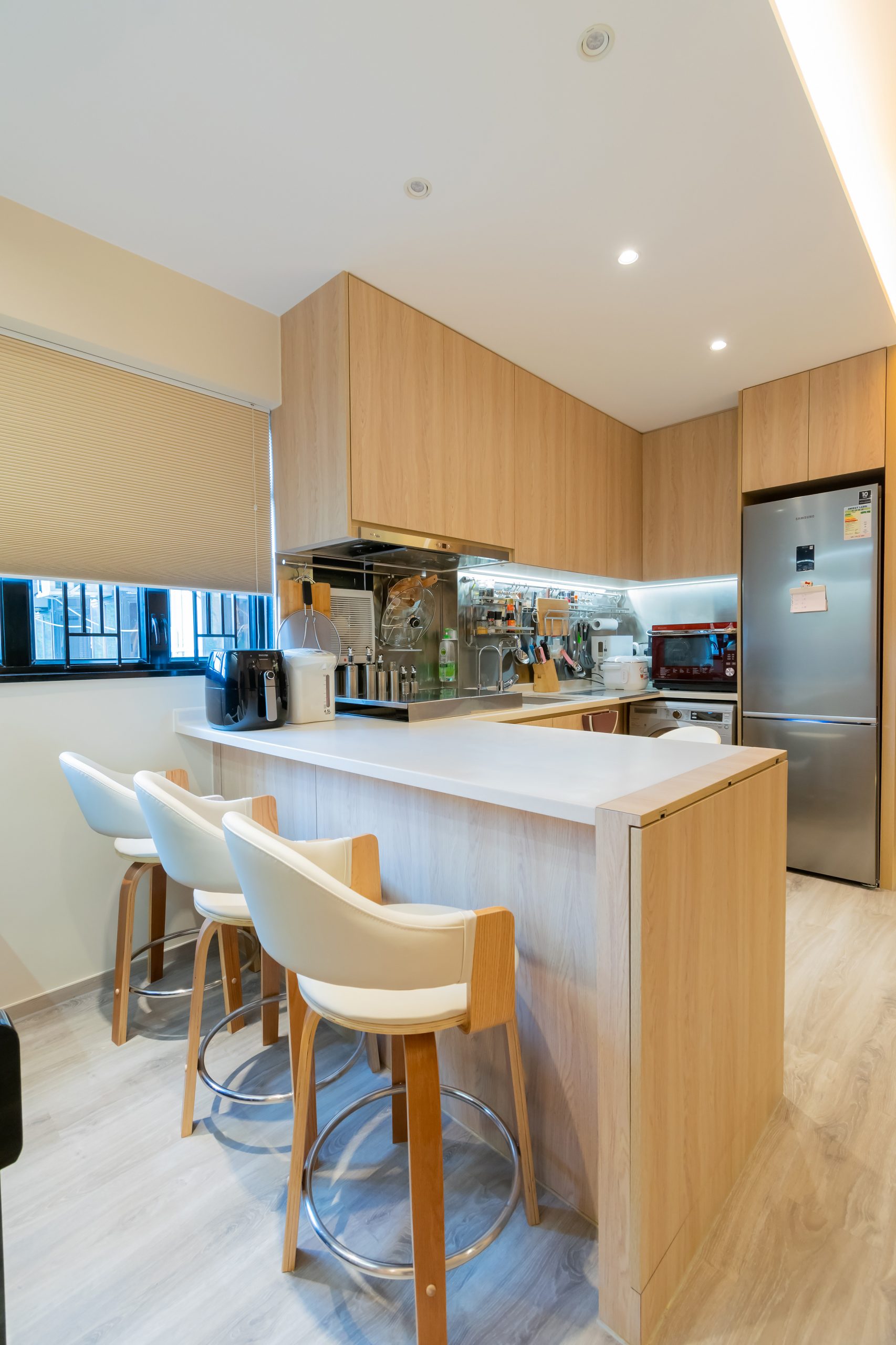 Interior Designer︰Aims Design Limited
Kitchen designs that incorporate wood grain and light colors add a touch of warmth and coziness to the space. With an open-plan design throughout the entire unit, the kitchen island plays a pivotal role. It clearly separates the kitchen and living area, allowing for a distinct division of living spaces. This promotes smooth movement within the home and facilitates connectivity among the users of each space. The kitchen island acts as a visual and functional anchor, enhancing the overall flow and functionality of the open-plan design.
Home Design 4︰Ellen Building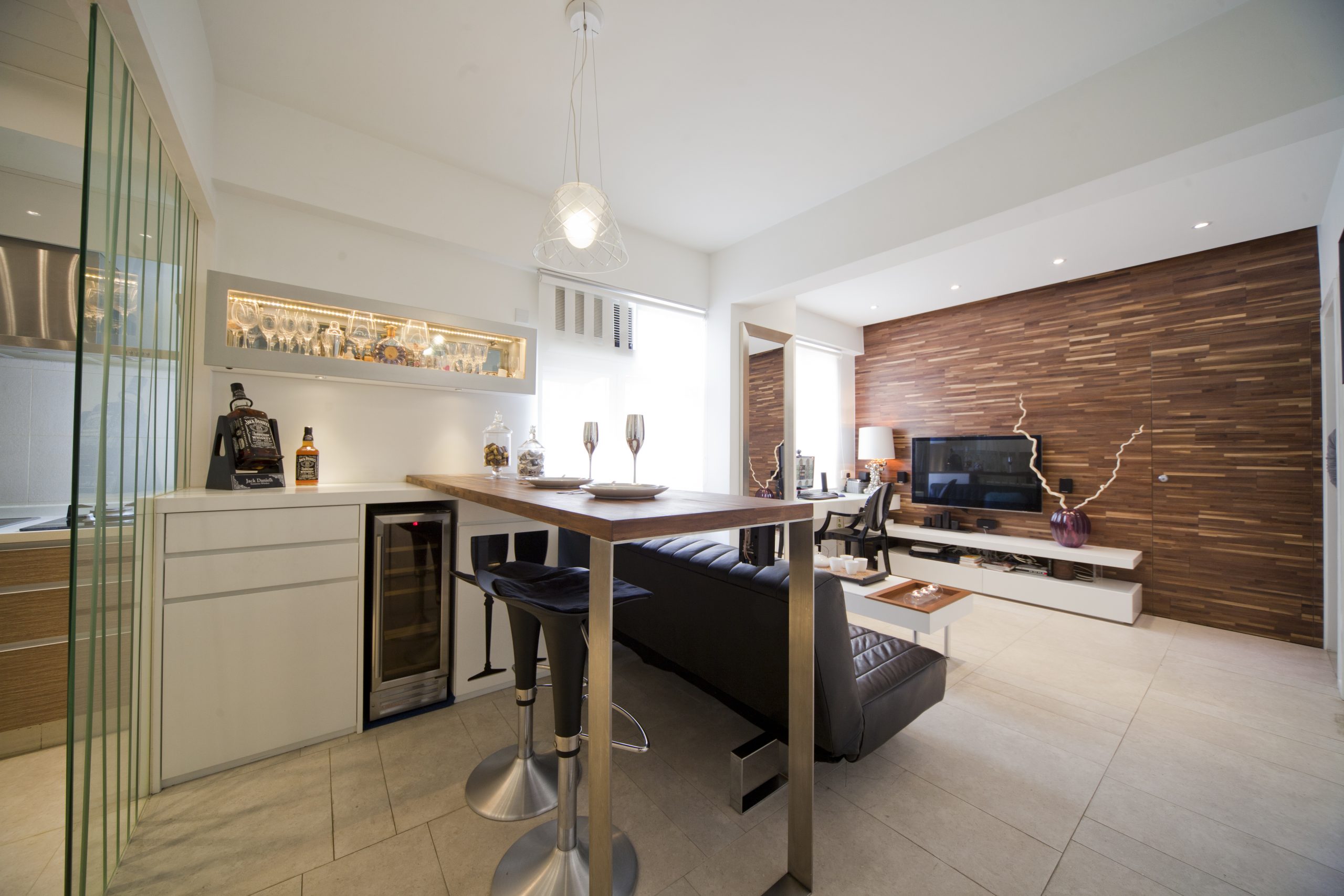 Interior Designer︰Space Design
If you enjoy gatherings with friends and family, a kitchen island becomes an indispensable part of your kitchen. By placing the island in the center of the kitchen, it serves as your dedicated workspace for everyday tasks when you're alone. However, when guests arrive, it transforms into a perfect space for dining. While cooking, you can interact with your friends, enjoy a delicious meal together, and even share a few drinks. The kitchen island becomes a social hub that enhances intimacy and fosters meaningful connections among your guests. It adds a touch of warmth and sociability to your home, making it the ideal space for hosting memorable events.
Home Design 5︰Mei Foo Sun Chuen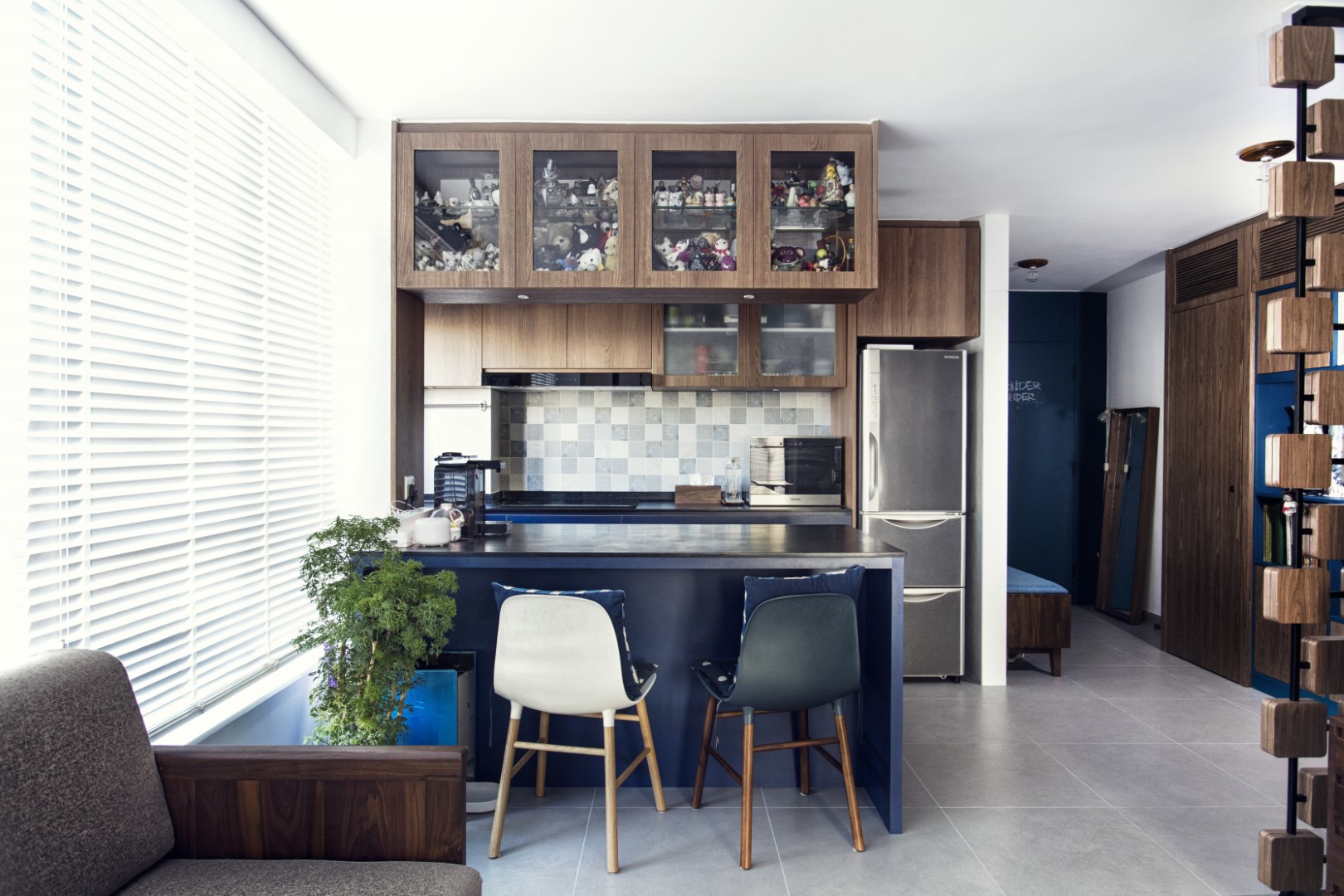 Interior Designer︰WonderWonder
With the deep blue color as the main theme, complemented by walnut cabinets and cultured stone tiles, the kitchen design combines cool tones with a touch of warmth and a vintage atmosphere. Display cabinets are installed at the top of the kitchen, showcasing the homeowner's collections and artwork. This kitchen island design serves as a multifunctional centerpiece, incorporating a sink, workspace, and dining table. It becomes a focal point of the home, bringing together functionality and aesthetics in one cohesive design.
Want an open kitchen with kitchen island? Use Designpedia matching service to choose the right interior design company and create a comfortable and peaceful new home! By selecting an interior design company recommended by Designpedia, you can enjoy the "Designpedia Guarantee", which includes various protections such as a guarantee of up to HKD 300,000, an extended warranty, and a 7-day unconditional refund, making your home renovation process hassle-free! Learn about the details of the "Designpedia Guarantee" and related articles! In "Brands", you can find high-quality furniture, appliances, home products, and home services! Designpedia users can also enjoy exclusive offers and shopping discounts provided by the brands. Redeem the benefits now and choose suitable home products!
Extended Reading︰
Being productive while working from home: 4 practical home
Goodbye to slippery floors! 5 Tips for designing practical
Create a Unique Home! 4 Tips for Pattern Design