Create a Unique Home! 4 Tips for Pattern Design
17 Aug 2023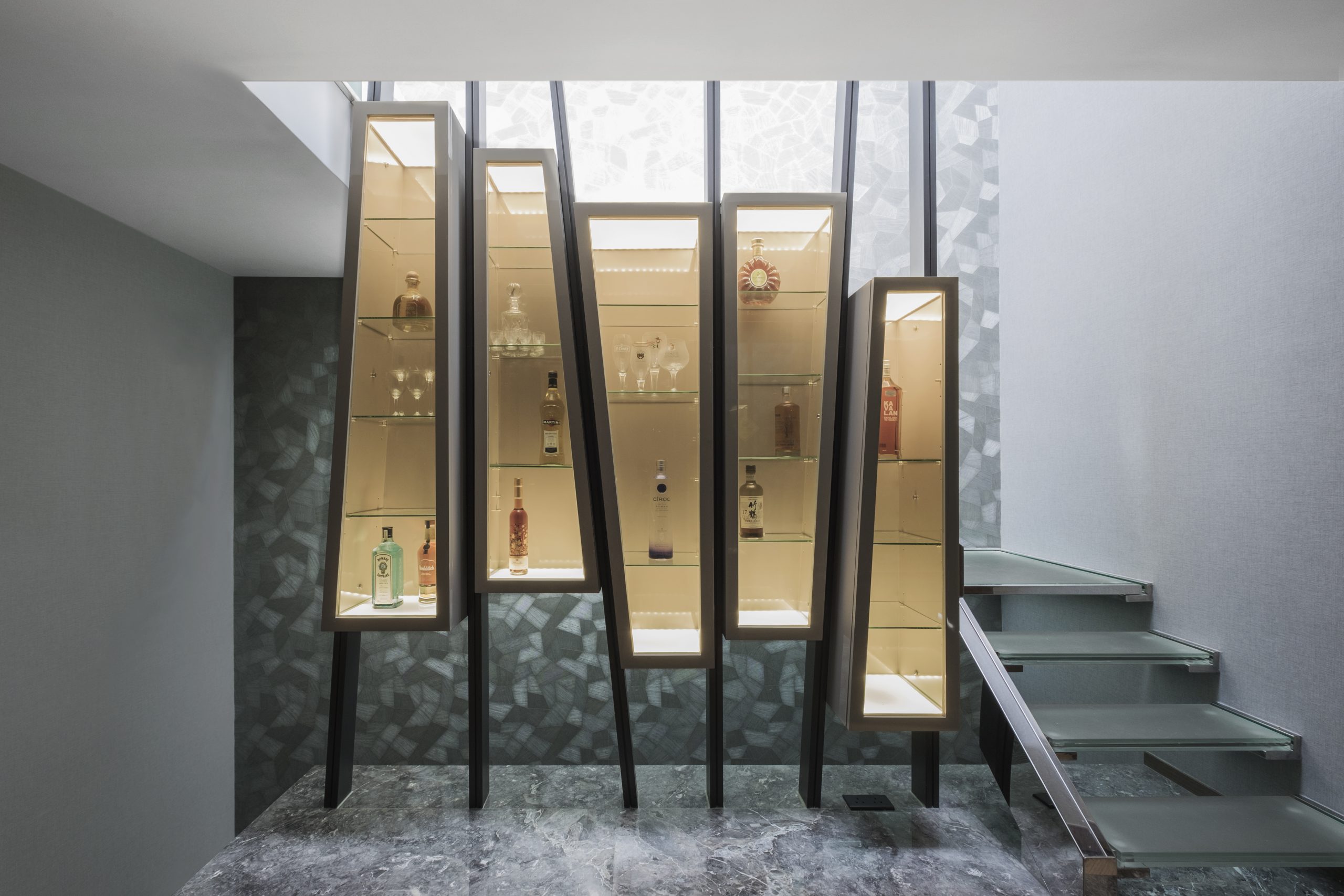 Interior Designer︰our interiors ltd
Home decor is an extension of our daily lives and can be seen as part of artistic aesthetics. Making occasional changes and injecting different patterns and colors into our homes can make them cozy yet timeless, creating a stunning transformation. However, with the wide variety of patterns and styles available in the market, it can be challenging to make decisions on which to choose from. Fortunately, there are guidelines to help you select suitable pattern combinations that will add style to your home. Today, Designpedia will explain how to choose the right colors and patterns for your rooms through nine design examples.
1. Geometric Patterns
Geometric patterns with innovative designs often feature bold color combinations and can be created using a variety of materials. They have a touch of postmodernism and are favored by many young people. There's no need to worry about a limited selection since geometric patterns come in various styles, providing a diverse range of choices.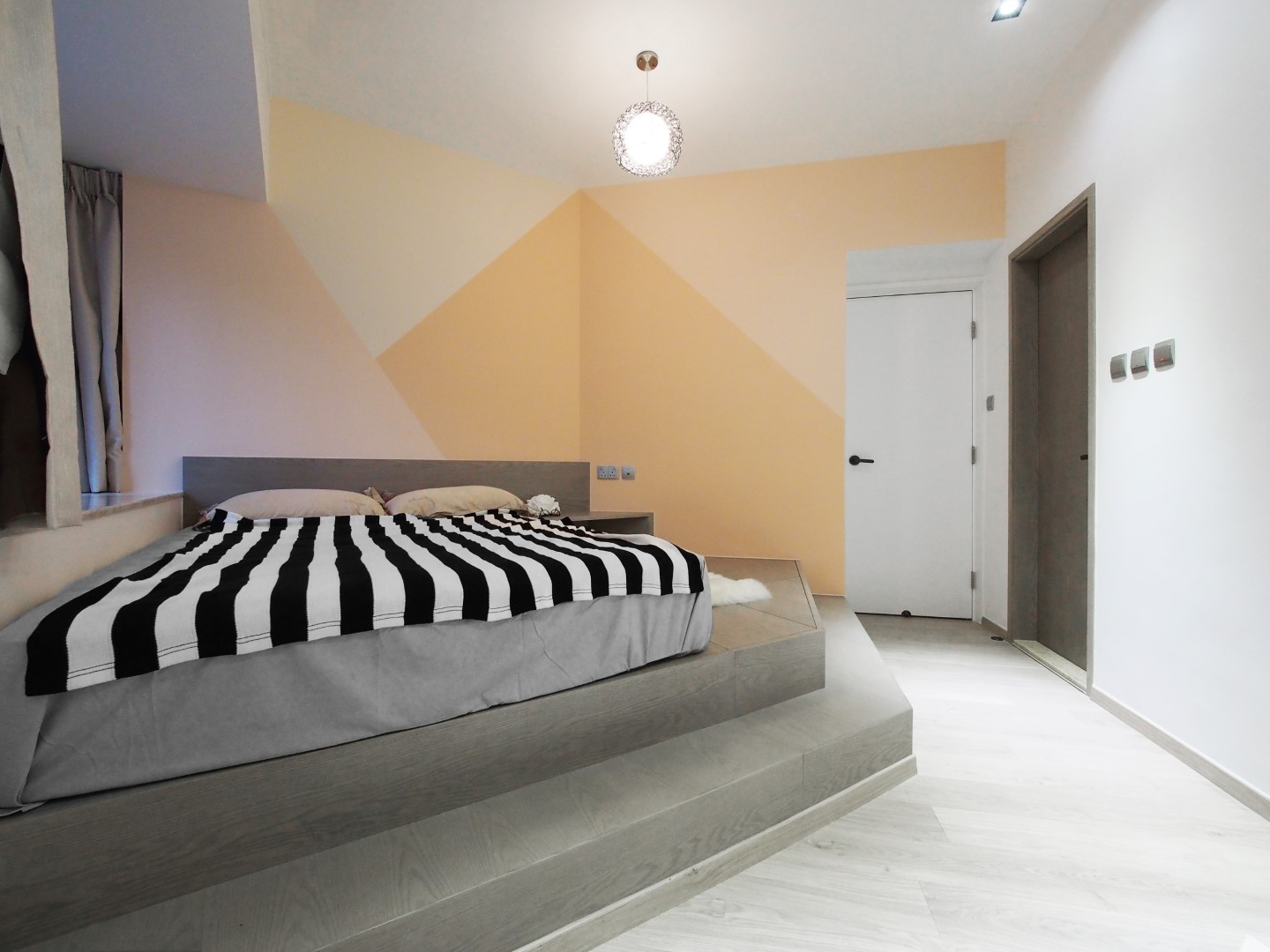 Interior Designer︰N'creative
Geometric striped wallpaper can visually expand space and contribute to enlarging the area visually. Embedding a stylish and contrasting striped wall in a minimalist, pure white bedroom can bring a fashionable vibe to the entire space. The combination of bright tones prevents the bedroom from appearing dull while avoiding monotony.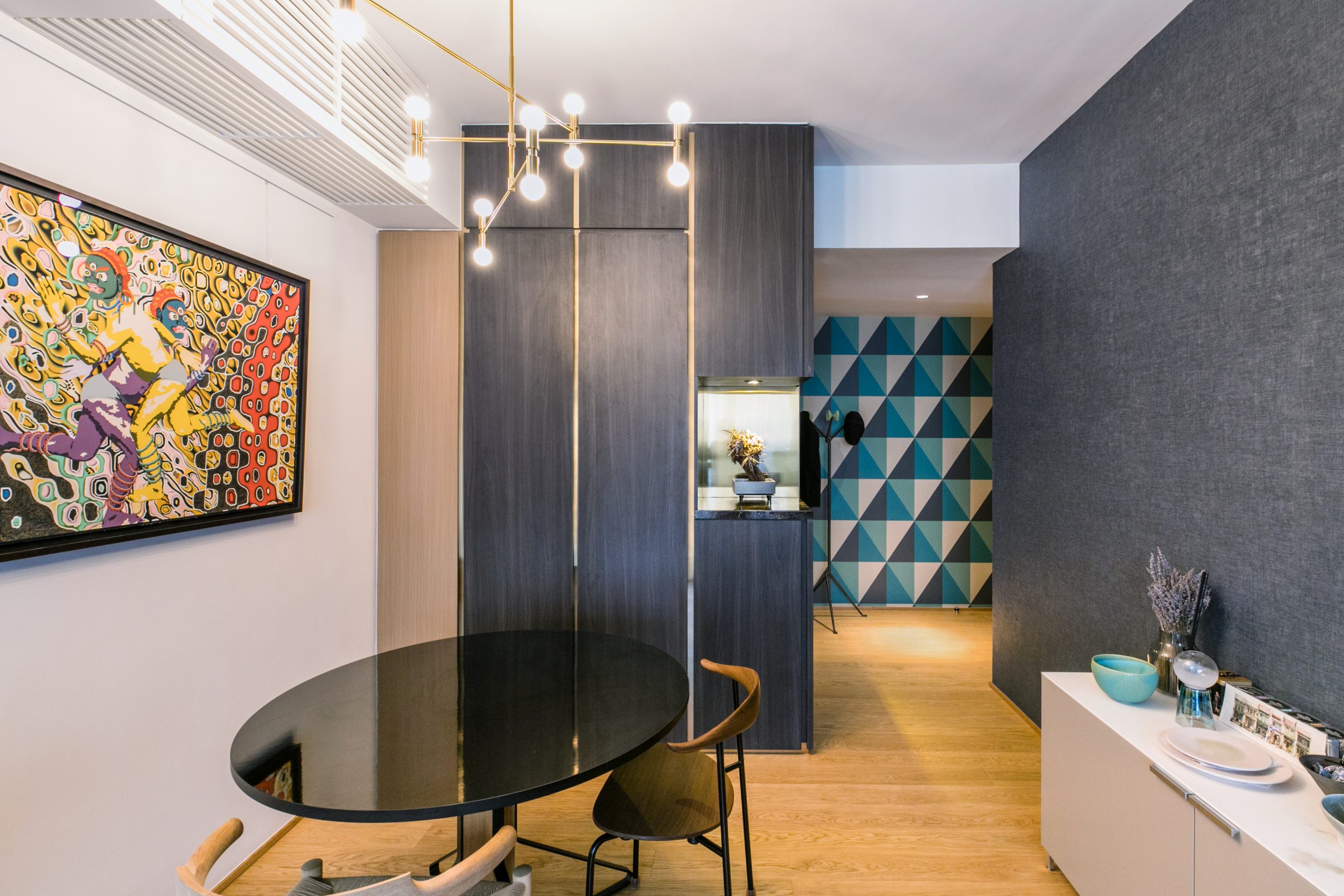 Interior Designer︰ MAD Studio Limited
The entrance hall is the "first impression" of a home, as it is the first thing we see when stepping into a house. Therefore, putting effort into the design of the entrance hall can bring daily surprises. A geometric pattern with vibrant colors in the entrance hall adds a playful touch to the overall home design. Additionally, the combination of black, green, and white colors complements the furniture colors in the living room, giving the space a lively and whimsical feel!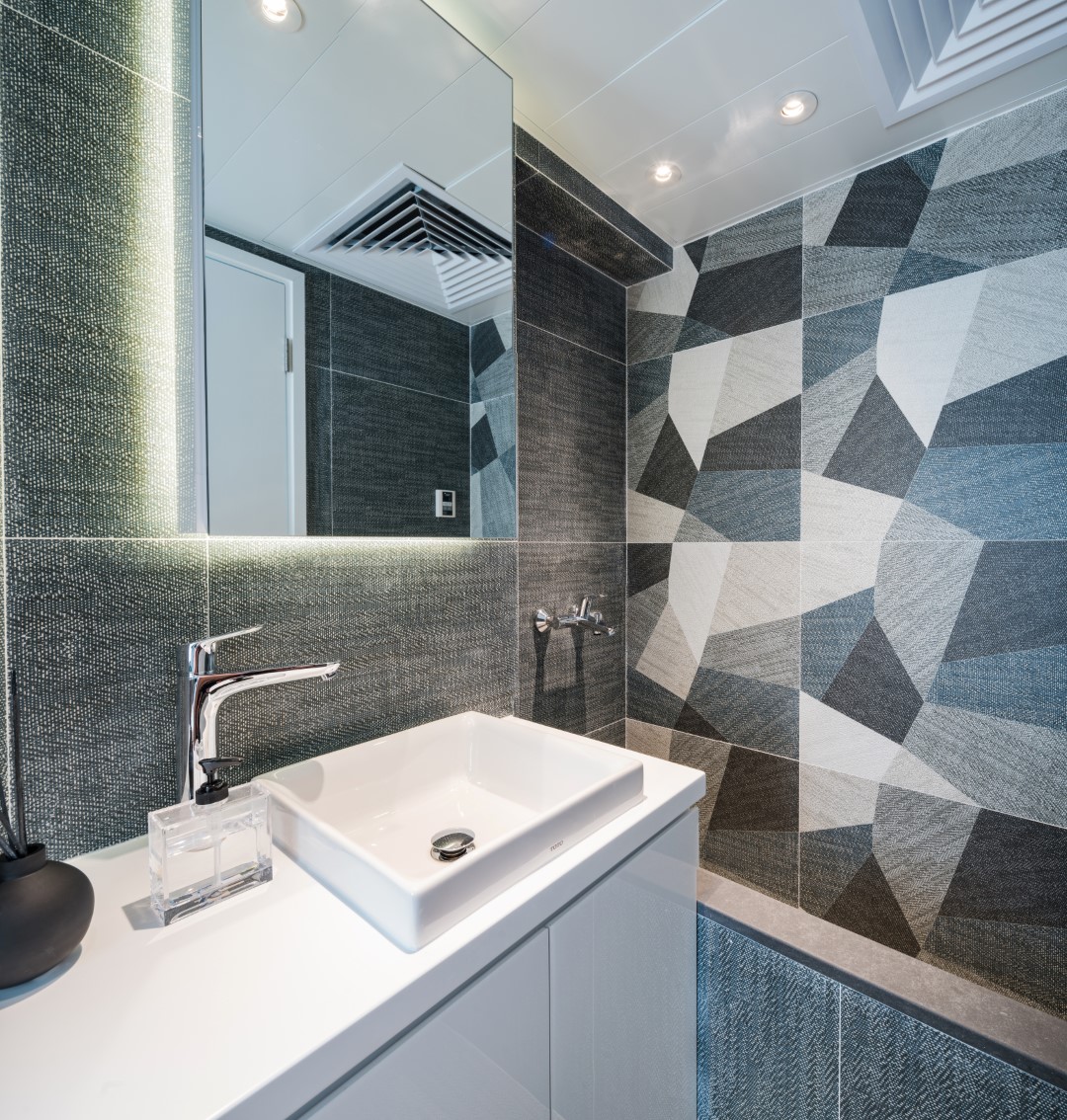 Interior Designer︰Pixel Interior Design
Irregular geometric patterns with distinctive characteristics can be applied in small areas, and using shades of black, white, and gray adds a modern touch to the bathroom. The combination of gray walls and unique geometric patterns creates visual interest while maintaining a balanced and harmonious atmosphere in the bathroom.
2. Mosaic
Mosaic is a widely popular technique in home decor that can be used for both small decorative accents and large-scale tiling. Different types of mosaic tiles can be flexibly combined to create an endless array of decorative effects, making it a versatile and visually appealing interior design material. Mosaic offers a balance of diversity, decorative value, and practicality, allowing for creative and personalized applications in various spaces.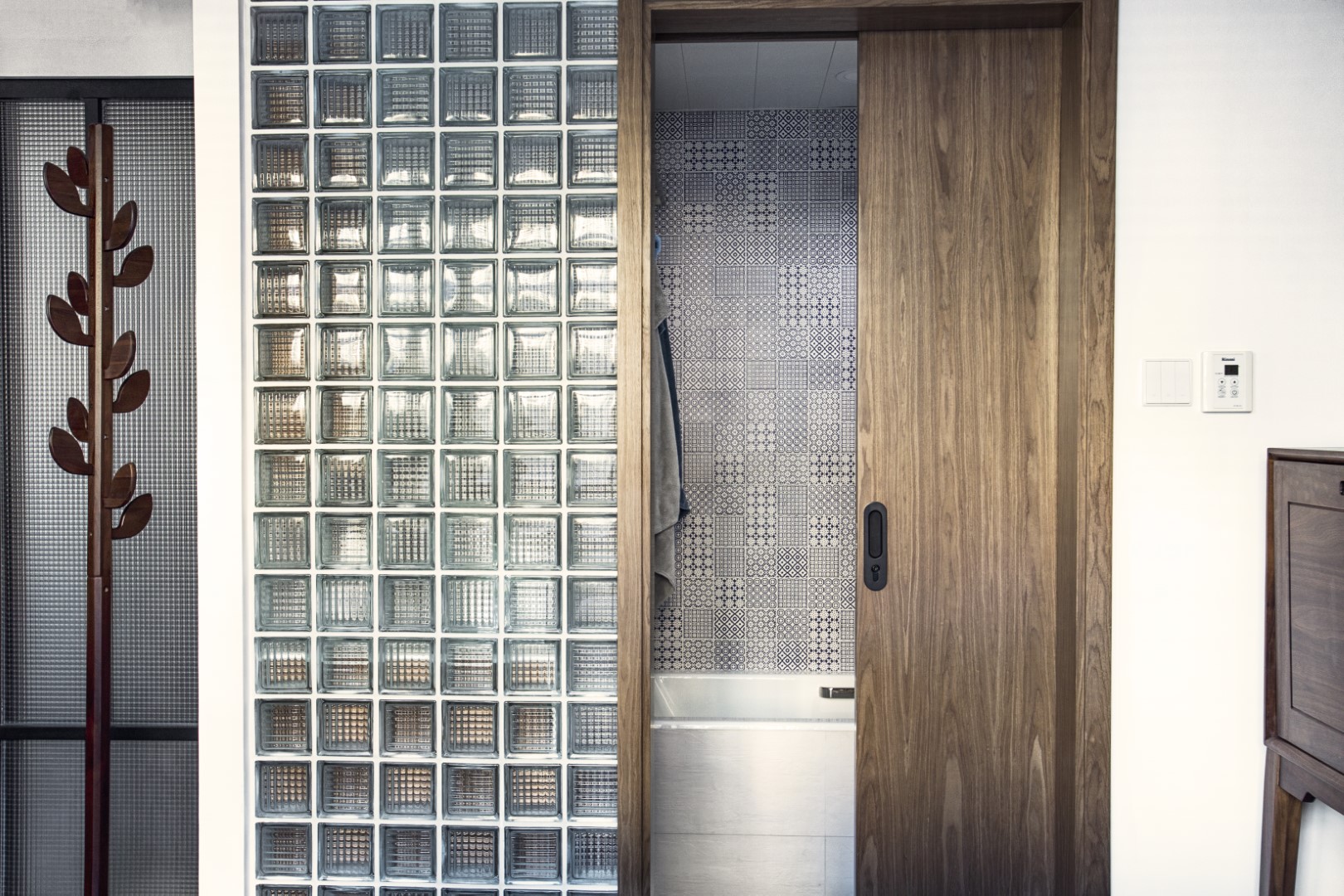 Interior Designer︰WonderWonder


The black and gray hues of mosaic patterns blend seamlessly into the interior environment without being overly flashy. When paired with similar glass walls, the space remains bright and unified. The combination of black and gray mosaic tiles with wood patterns also creates a strong Japanese aesthetic. Considering mosaic tiles for waterproof wall decorations in the bathroom is a great idea!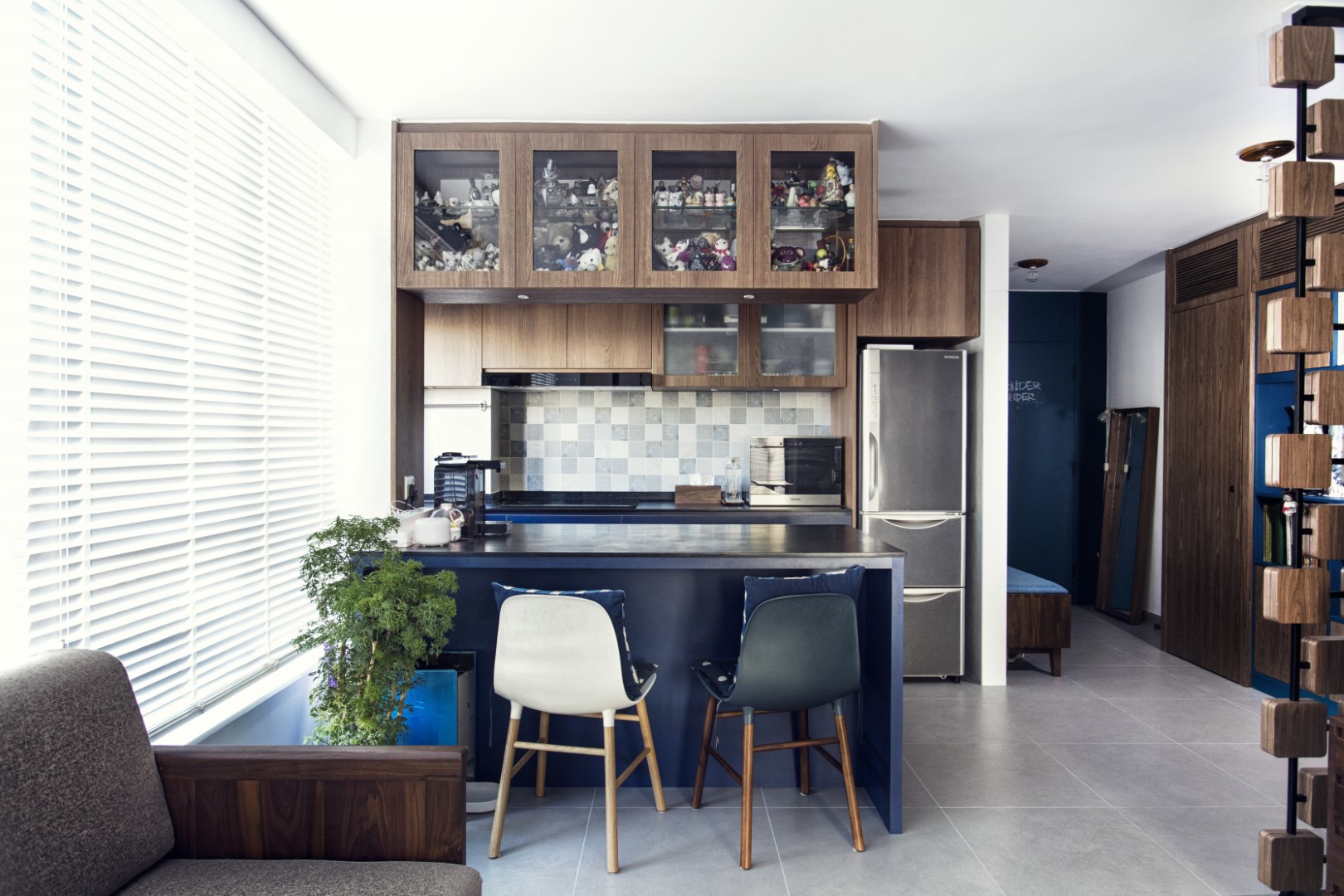 Interior Designer︰WonderWonder
Mosaic decorations can also be applied to kitchen walls. Due to the limited space in the kitchen and the presence of cooking fumes, it is important to choose mosaic tiles that have a light and elegant color scheme and a smooth, glossy surface. These qualities allow the mosaic tiles to effectively reflect light, visually expanding the size of the kitchen space. Furthermore, the unique material of mosaic tiles makes them easy to clean. Simply wiping the tiles with a damp cloth can restore their shine and beauty.
3. Marble Patterns
Marble-patterned home decor stands out for its unique texture and cool, refreshing feel. With its natural and luxurious color tones, there is a wide range of options to choose from. Marble patterns can cater to different people's preferences, offering an atmosphere of grace and grandeur, vintage charm, or warm freshness. Incorporating marble elements into your home can bring a distinctive coolness to the overall interior design, making your room truly stand out from the crowd.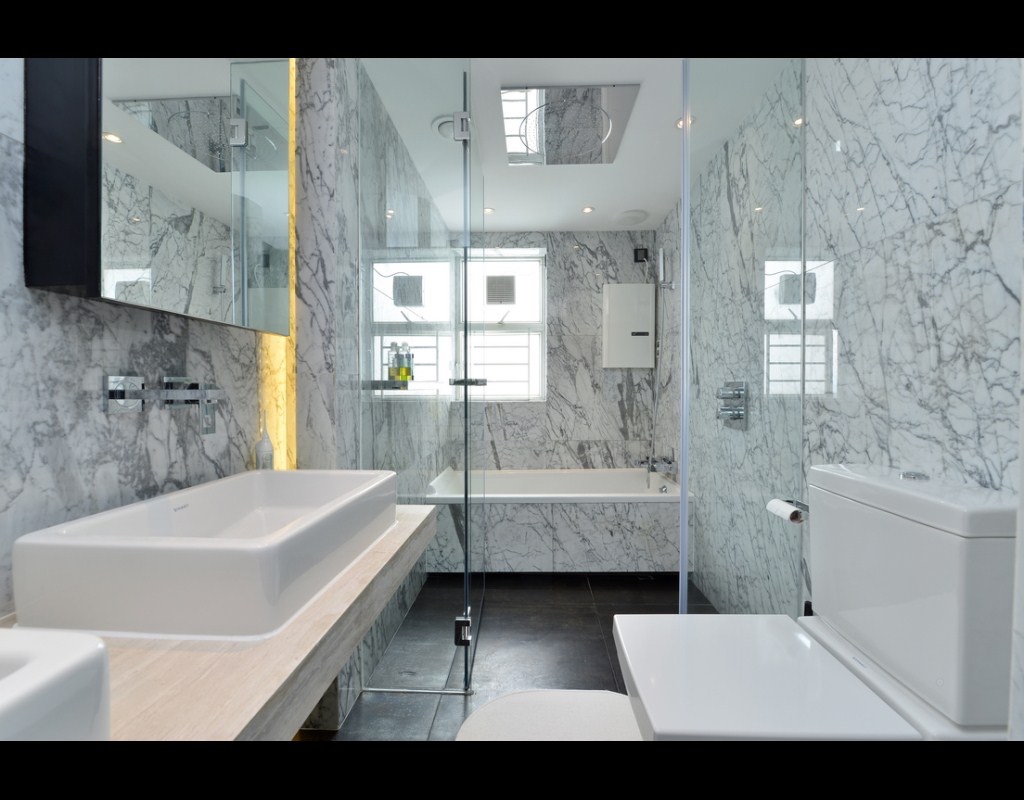 Interior Designer︰KOO Interior Design
The "Carrara White" marble, characterized by a white background with black and gray veins, is a natural and flowing pattern that is particularly suitable for bathroom designs. The black, white, and gray color scheme of the marble pattern blends harmoniously with the overall color tone of the bathroom. Pairing white sanitary ware and black floor tiles with the white-based marble featuring black and gray stripes creates a balanced and elegant look, avoiding a sense of space constraint. This combination can transform the bathroom into a spacious and refined oasis.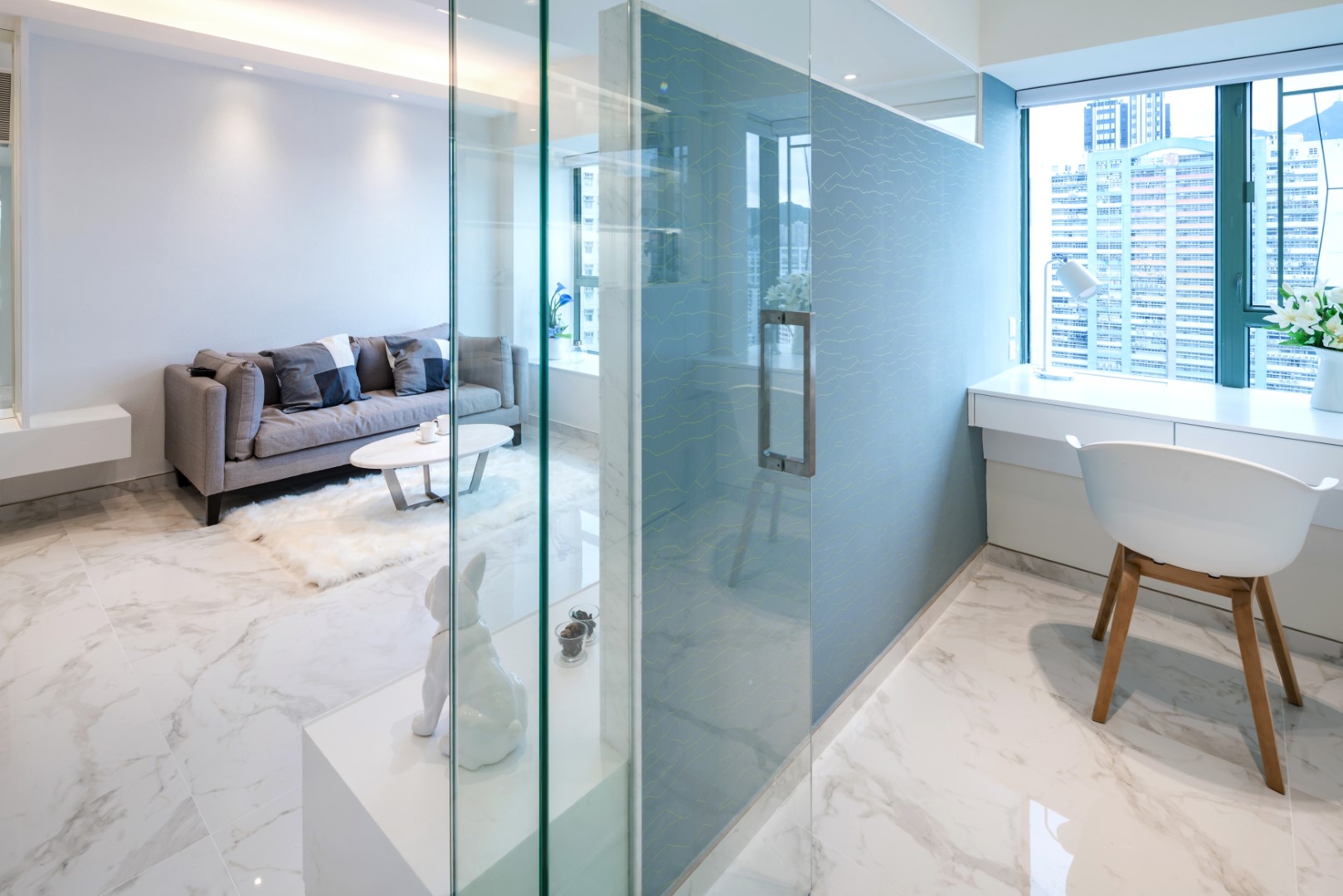 Interior Designer︰Pixel Interior Design
The elegant white marble floor tiles with intricate patterns exude a bright and pure ambiance, adding a touch of sophistication to the space. Paired with soft blue walls in a similarly elegant color palette, the interior gains a cozy and warm atmosphere. The glass doors, also featuring a shiny material, complement the overall design theme, creating a fresh and charming scene throughout the home.
4. Wood grain
Wood grain decoration has become a trend in contemporary home design, offering a serene and natural surface appearance. With various shades, grain patterns, and collage techniques, it can be creatively interpreted to create different spatial styles. Wood grain designs exude a rich natural ambiance while incorporating a modern sense of fashion, elevating the overall aesthetic of your home with a touch of sophistication.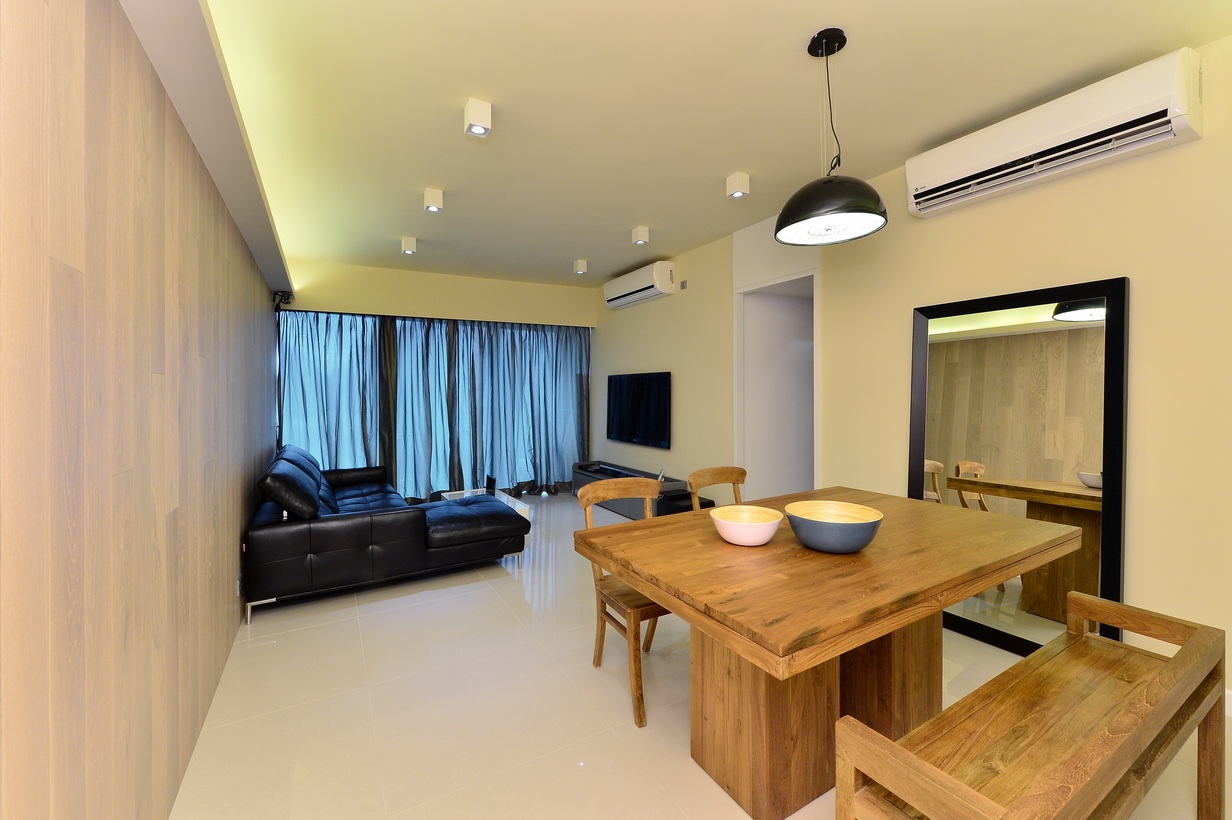 Interior Designer︰KOO Interior Design
Incorporating wood grain with different shades establishes a dignified and atmospheric tone within the interior. A vertical wood grain wall in a deep brown hue, harmonizing with a black marble color scheme, along with a stylish wine-tasting counter, creates an elegant wine-tasting space. Transitioning to the living room, a natural-toned wood grain floor paired with a "herringbone" patterned wooden wall of the same hue, generates a grand and sophisticated atmosphere. The ceiling decorations are kept minimal, allowing for sufficient space and avoiding a cluttered feeling while showcasing the homeowner's exceptional taste.
Interior Designer︰KOO Interior Design
The warm-toned natural wood grain adds a cozy and inviting feel to the kitchen, creating a sense of warmth and homeliness. The juxtaposition of the wood grain with sleek, modern mirrored kitchen cabinets not only balances the heaviness brought by the black cabinets but also brings a natural touch to the cooking space. This combination not only harmonizes the color tones but also infuses the cooking experience with a natural ambiance.
Are you looking at what pattern to use for home design? Use Designpedia matching service to choose the right interior design company and create a comfortable and peaceful new home! By selecting an interior design company recommended by Designpedia, you can enjoy the "Designpedia Guarantee", which includes various protections such as a guarantee of up to HKD 300,000, an extended warranty, and a 7-day unconditional refund, making your home renovation process hassle-free! Learn about the details of the "Designpedia Guarantee" and related articles! In "Brands", you can find high-quality furniture, appliances, home products, and home services! Designpedia users can also enjoy exclusive offers and shopping discounts provided by the brands. Redeem the benefits now and choose suitable home products!
Extended reading︰
6 feature wall materials to give your home a unique style
Being productive while working from home: 4 practical home
Goodbye to slippery floors! 5 Tips for designing practical