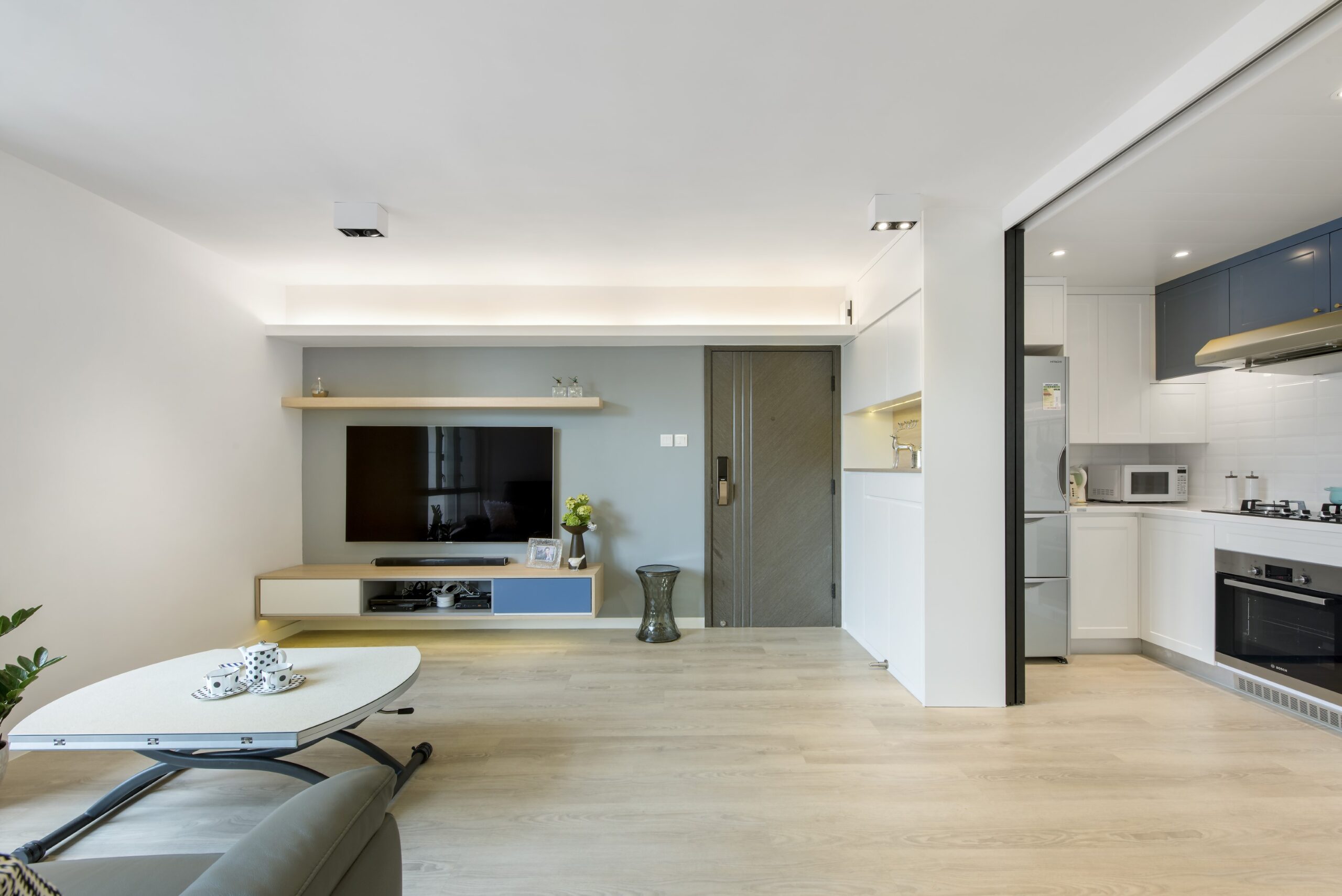 Interior Designer︰Space Design
Floors play a crucial role in our homes, and if you have children, they also become platforms for activities and play. Therefore, it is important to maintain their beauty and cleanliness. However, there are numerous types of flooring available in the market, and each material requires specific care and maintenance techniques. Today, Designpedia has compiled maintenance methods for 5 common flooring materials. Let's take a look together!
1. Hardwood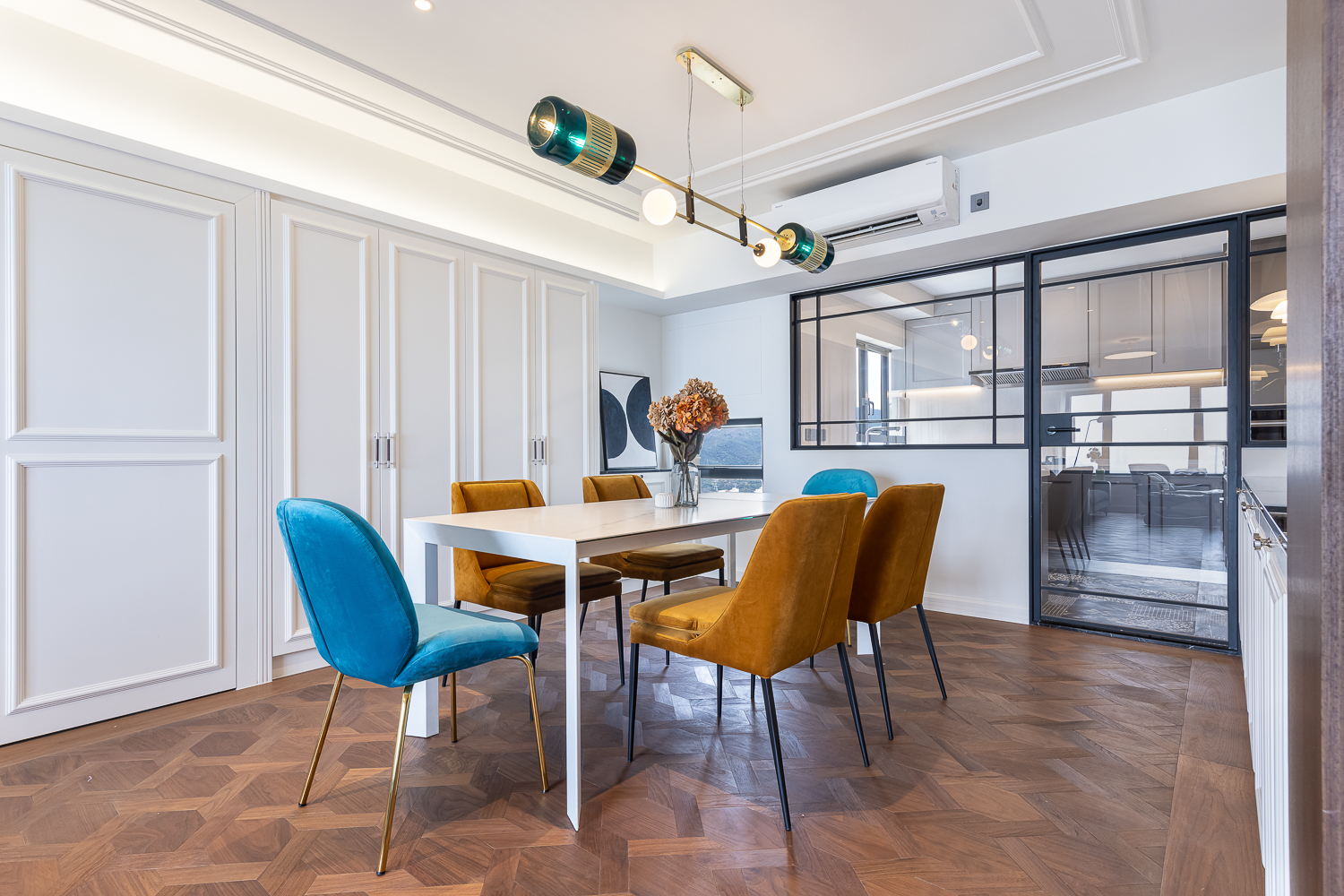 Interior Designer︰am PLUS Designs Limited
Solid wood flooring brings a natural, warm, and luxurious feel to a home. It has a comfortable and resilient texture and can be sanded and polished multiple times, providing insulation in both winter and summer. However, solid wood flooring tends to be more expensive, and its maintenance requires more attention to detail. If not properly cared for, solid wood flooring can quickly discolor, wear out, or even sustain damage.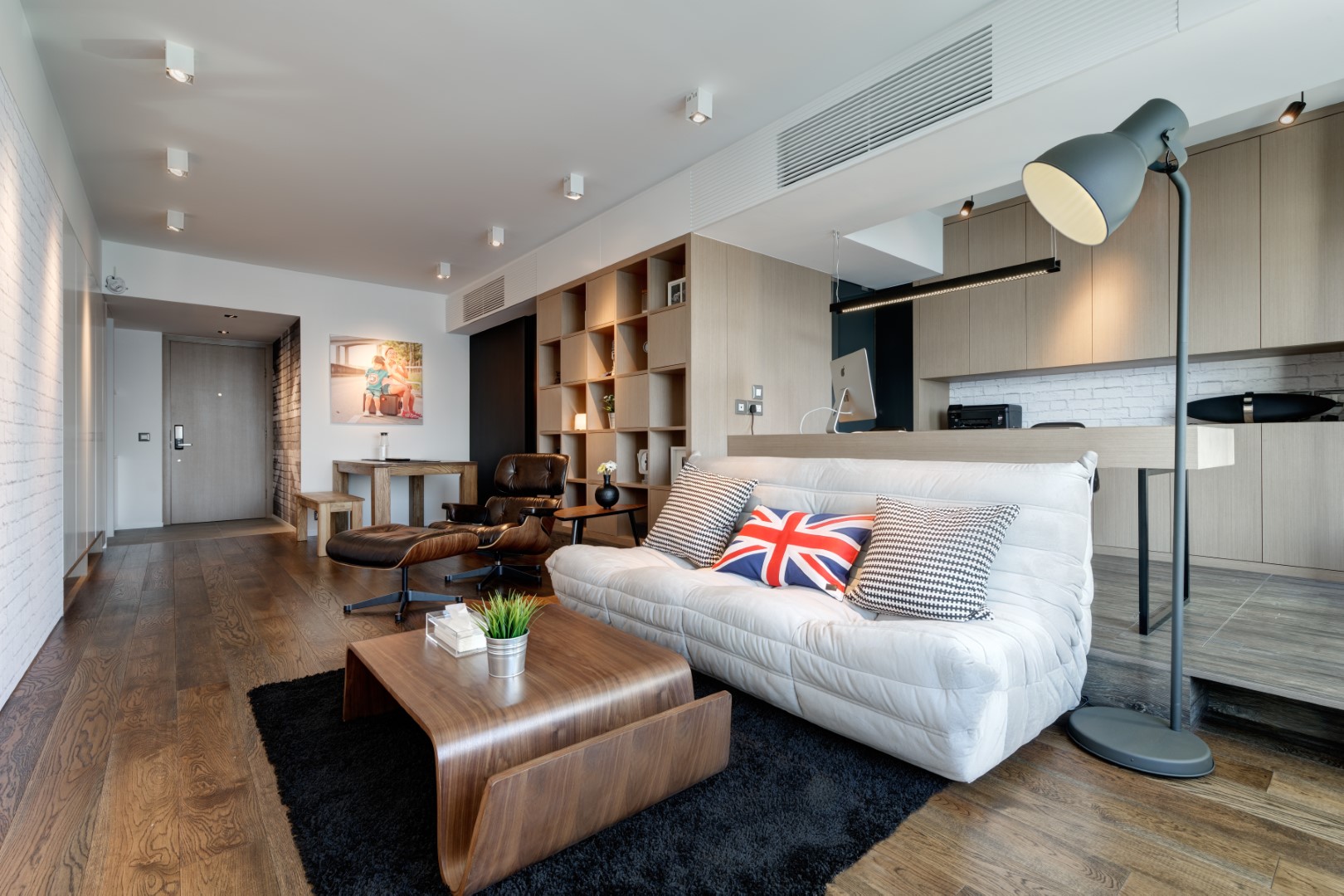 Interior Designer︰in Him's Interior Design
Firstly, solid wood flooring should not be installed in damp areas as it is prone to warping, cupping, or deformation. After the flooring is installed, it is advisable to apply a protective coating such as wax or paint within a week. Wax can penetrate into the wood, preventing decay and deformation. Therefore, it is recommended to apply wax to newly installed solid wood flooring once a month, preferably using liquid wax. After six months, waxing can be done on a quarterly or semi-annual basis, with the timing adjusted as needed. Unless the flooring is severely worn, we do not recommend using solid wax. For solid wood flooring that has been in use for more than five years, solid wax can be used, but a single waxing is sufficient, and regular maintenance should primarily involve liquid wax.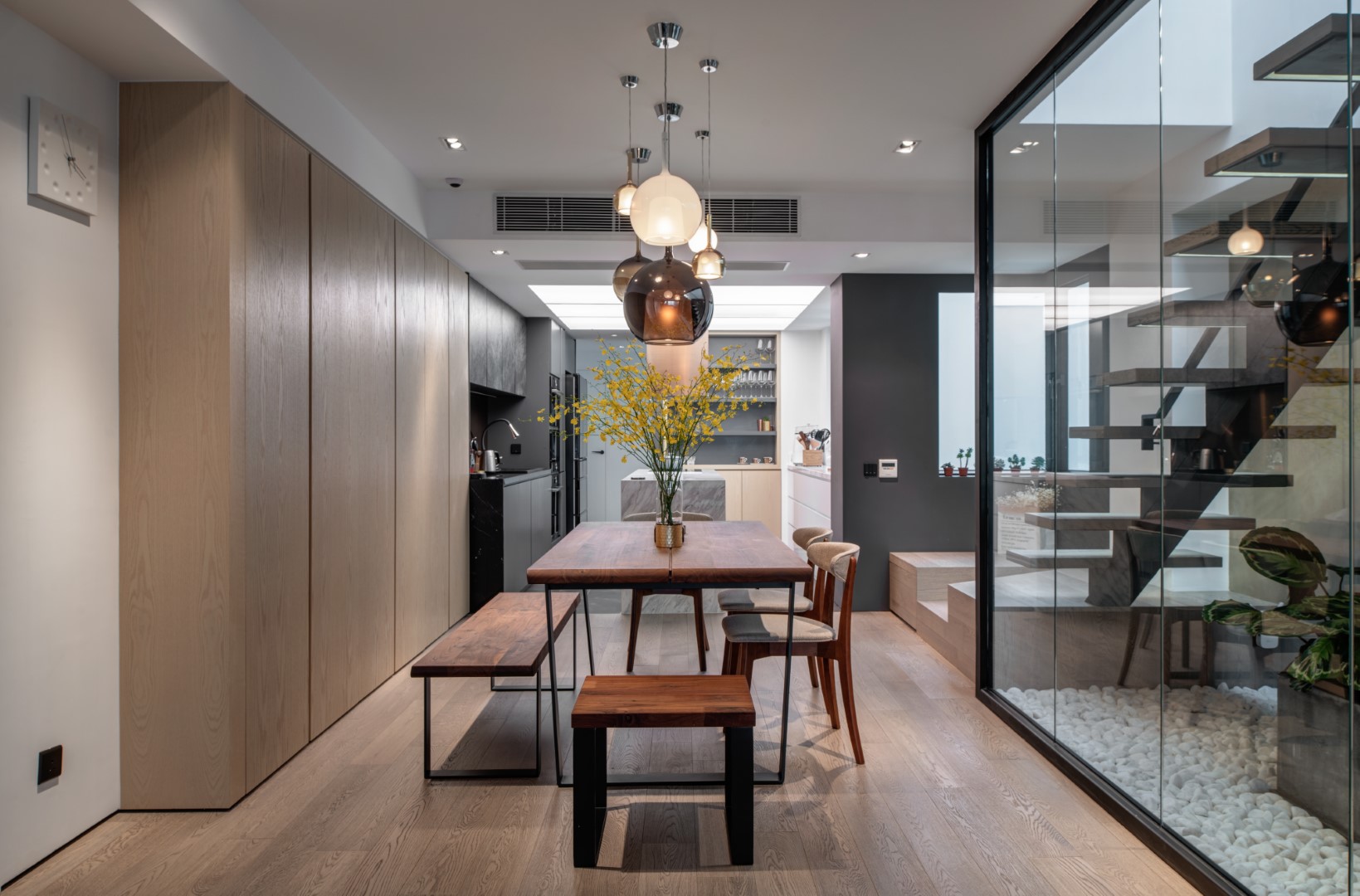 Interior Designer︰in Him's Interior Design
During the cleaning process, it is recommended to use a vacuum cleaner regularly to remove dust and small debris. Otherwise, there is a risk of scratching the wooden surface when walking on it. If the floor is stained, a damp cloth can be used to wipe it clean, avoiding the use of acidic or alkaline cleaning agents as much as possible. From April to September, when there is more rain in Hong Kong, it is important to ensure proper ventilation. It is advisable to open a dehumidifier to prevent the flooring from becoming moldy. Additionally, if there are heavy objects such as pianos or furniture with sharp edges in the house, it is important not to place them directly on the wooden floor surface. It is necessary to use protective pads or mats underneath to prevent damage.
2. Engineered Wood
Engineered wood flooring is a type of flooring that originated from the family of solid wood flooring. It has gained popularity among many households due to its natural wood texture, easy installation and maintenance, resistance to decay and moisture, as well as its antibacterial properties. However, it is important to note that engineered wood flooring also has its disadvantages. Since the surface is made of a veneer of real wood, similar to solid wood flooring, its durability and resistance to wear are not as high.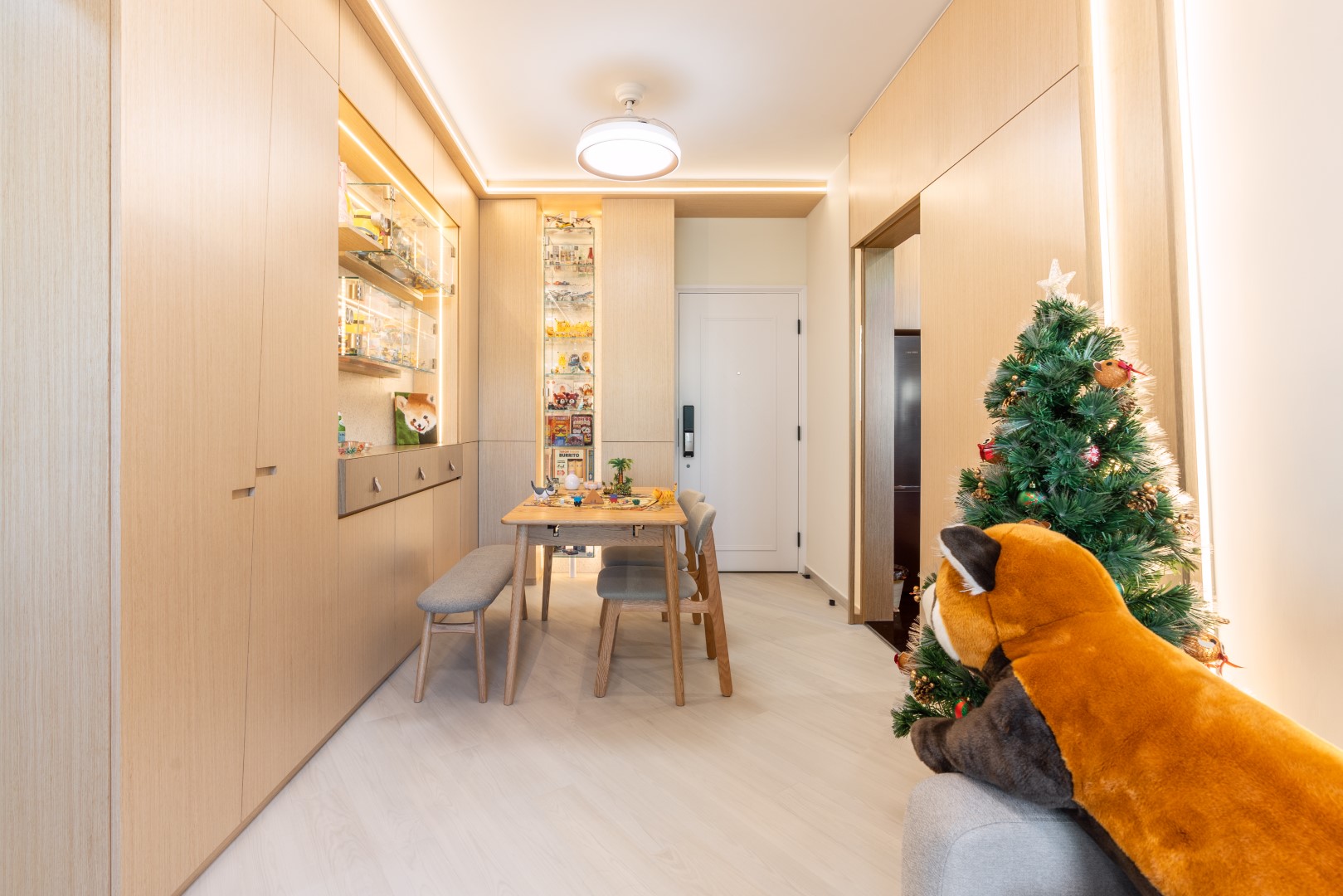 Interior Designer︰TRIGHT Interior Design
The maintenance methods for engineered wood flooring are similar to those for solid wood flooring. The humidity level in the room should be maintained within an appropriate range to prevent floor deformation. It is important to note that prolonged exposure to intense sunlight or rapid temperature fluctuations indoors can cause damage to engineered wood flooring, so it should be avoided as much as possible.
In terms of daily cleaning, in addition to regular sweeping and vacuuming to prevent sand or abrasive dust from scratching the surface of the floor, it is important to avoid using dripping wet mops or corrosive liquids to clean the floor. Instead, choose a cotton mop that can be wrung out to wipe the floor. Furthermore, to maintain the shine of the engineered wood flooring and extend the lifespan of the finish, it is recommended to wax the floor twice a year.
3. Marble
Marble is a highly durable and hard stone known for its aesthetic appeal, making it a common material for home decoration. Marble flooring has a long lifespan, but maintenance should not be overlooked. To keep the marble floor tiles shiny and clean, regular polishing is required. However, the process of polishing is labor-intensive, so it is typically done after two years of use.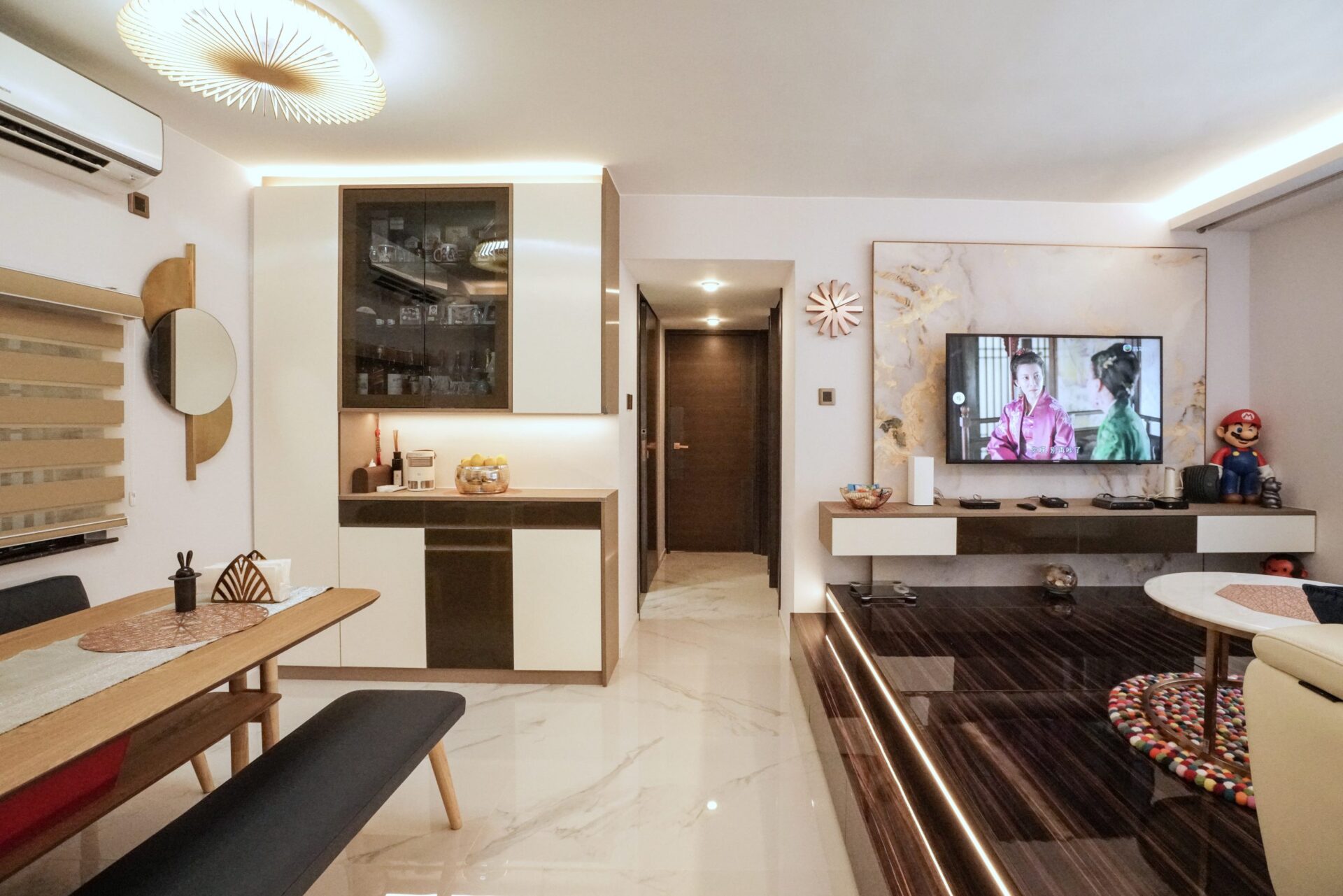 Interior Designer︰現時設計
For daily cleaning of marble, it is best to use a vacuum cleaner to remove dust. Outdoor shoes should be avoided on marble floors, and soft-soled slippers or shoes are recommended instead. Additionally, if there are stains on the marble tiles, water alone may not be sufficient to clean them thoroughly. It is advisable to use a neutral cleaner for scrubbing. It is important to note that marble has natural microscopic pores and is highly absorbent, so it should not be directly rinsed with water or mopped with excessively wet mops. Doing so can lead to water spots, a dull appearance, or even the lifting and detachment of the stone. It is essential to maintain proper ventilation and dryness, and you can use ventilation equipment as needed to prevent these issues.
4. Porcelain
Ceramic tile flooring is common in home decoration, and there are many types available. They can be categorized based on their manufacturing processes and features, such as glazed tiles, full-body tiles, polished tiles, vitrified tiles, and mosaic tiles, among others. The advantages of its material make cleaning ceramic tile flooring very convenient, and it can be kept beautiful and clean with minimal effort in daily life as long as major damage is avoided.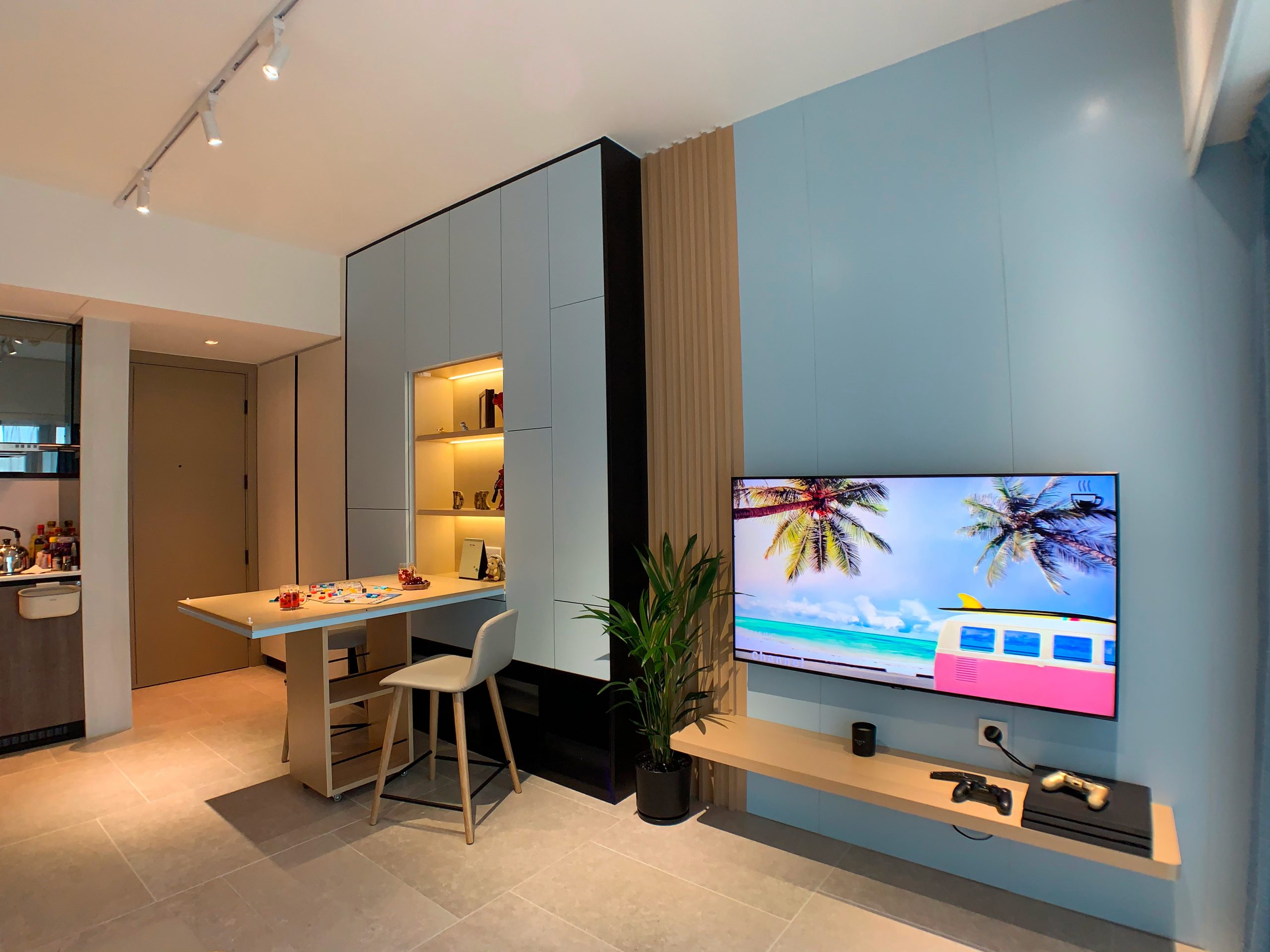 Interior Designer︰TRIGHT Interior Design
In daily use, it is important to avoid using metal sharp objects or any hard materials to rub against ceramic tile flooring. Additionally, it is not recommended to repeatedly drag heavy objects across the tiles to prevent scratching the glazed surface of the tiles, which can affect their appearance.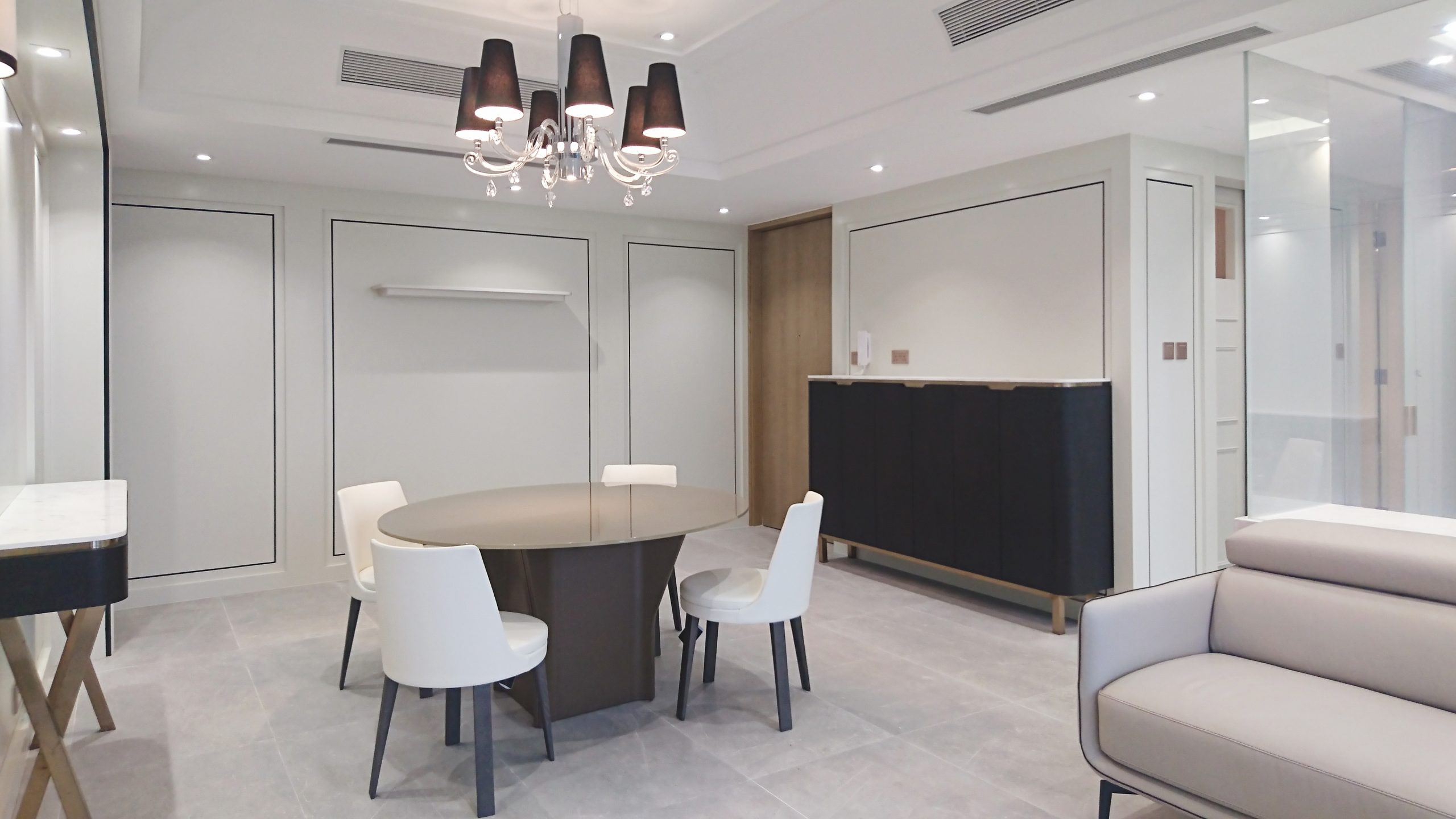 Interior Designer︰PI CONCEPT
To clean ceramic tile flooring on a daily basis, a simple sweep and wipe will usually suffice. After cleaning, it's beneficial to open doors and windows to allow for natural ventilation, letting the airflow help dry the surface of the tiles. In more humid weather, you can use a dry cloth to wipe the tiles again or use a dehumidifier to remove excess moisture. For minor scratches, you can apply toothpaste around the scratched area and gently rub it with a soft, clean, dry cloth. Then, apply a small amount of floor wax and buff it with a cotton cloth once it dries to restore the shine. If the damage is severe, it is advisable to replace the tiles promptly or seek professional repair assistance.
5. VINYL
Vinyl flooring is another term for PVC flooring. It is a popular type of new lightweight floor covering material, also known as "lightweight flooring." The main component of plastic flooring is polyvinyl chloride (PVC) material. It is lightweight, durable, stain-resistant, sunlight-resistant, and moisture-resistant. It is also cost-effective and relatively easy to install. However, it has some notable drawbacks. Plastic flooring is not resistant to stains and lacks repairability. It is susceptible to damage from heavy objects and rollers. It can shrink and deform under high-temperature conditions. Therefore, when using plastic flooring, it is important to avoid placing burning cigarettes, mosquito coils, charged irons, or hot metal objects directly on the floor to prevent damage to the surface of the flooring.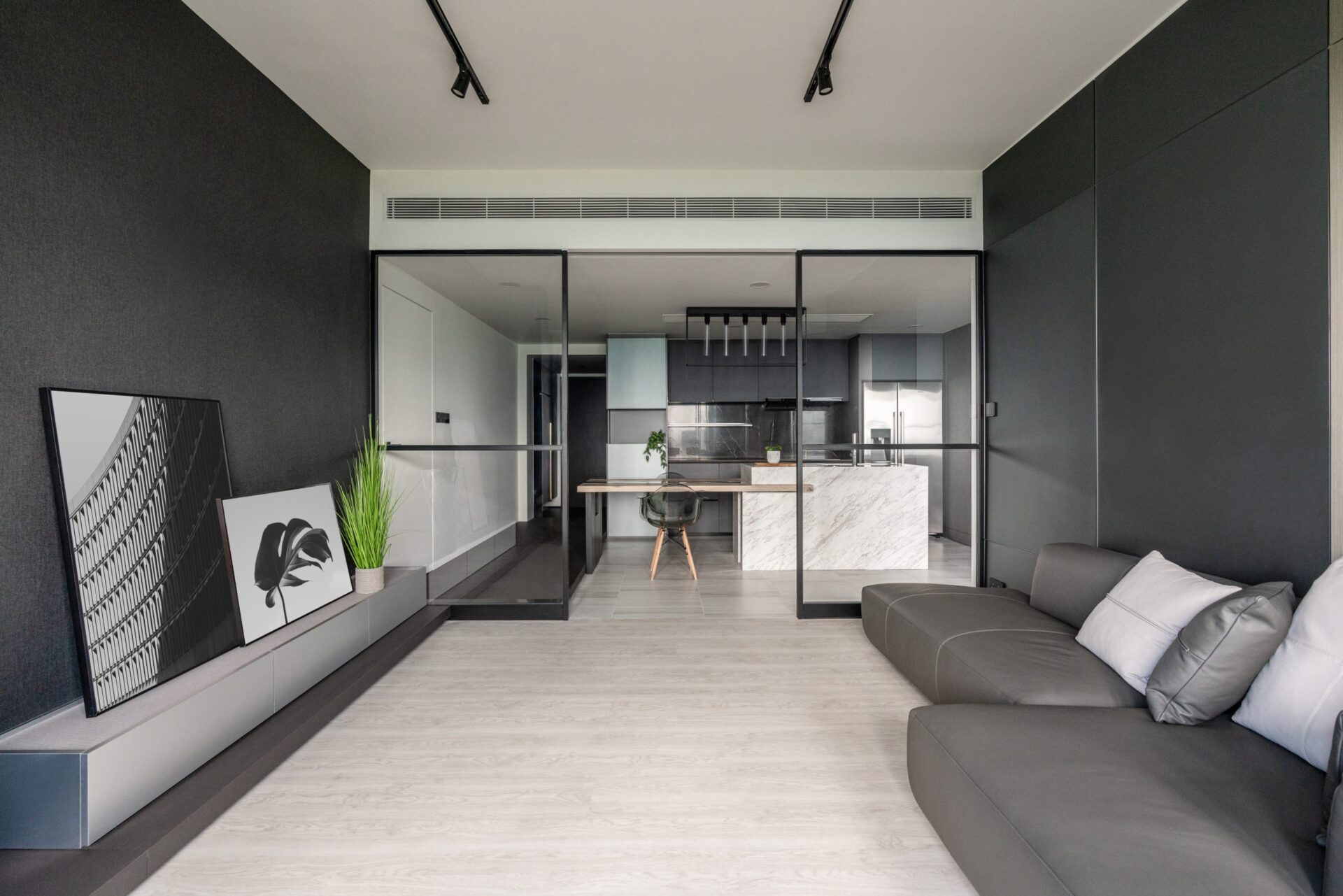 Interior Designer︰MAD Studio Limited
During daily cleaning, you can use a slightly damp mop to clean the floor. For areas with heavy stains, you can use a neutral cleaner for spot cleaning. Remember not to use strong acid or alkaline cleaners on the floor. It is important to perform regular cleaning and maintenance tasks, such as waxing the plastic flooring once a month. Also, avoid direct exposure to strong sunlight to prevent discoloration or fading of the floor. There are various types of flooring available on the market, and homeowners can choose according to their needs. Additionally, it is important to pay attention to floor maintenance in daily life.
Use Designpedia matching service to choose the right interior design company and create a comfortable and peaceful new home! By selecting an interior design company recommended by Designpedia, you can enjoy the "Designpedia Guarantee", which includes various protections such as a guarantee of up to HKD 300,000, an extended warranty, and a 7-day unconditional refund, making your home renovation process hassle-free! Learn about the details of the "Designpedia Guarantee" and related articles! In "Brands", you can find high-quality furniture, appliances, home products, and home services! Designpedia users can also enjoy exclusive offers and shopping discounts provided by the brands. Redeem the benefits now and choose suitable home products!
Extended Reading︰
Being productive while working from home: 4 practical home
Goodbye to slippery floors! 5 Tips for designing practical
Create a Unique Home! 4 Tips for Pattern Design